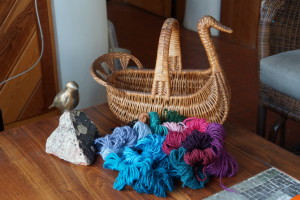 Now, since I set using yarn from my stash as one of the rules, I had better make a little confession. Like most textile addicts, I have gathered in a bountiful stash, and it is possible the yarn is breeding when I turn away for a moment. There are bits from Española Valley Fiber Arts Center and pieces from Weaving Southwest. And somehow over the past three years whenever I've found myself at the Farmers Market with a spare $20 or so, I have wound up at the Tierra Wools stall and a skein of hand-dyed blanket-weight churro yarn has jumped into my basket. So I have a few colors. Well, who could resist? The hand-dyed yarns are amazing. They are just what the Industrial Revolution taught us to despise – they are Uneven. They are Imperfect. They have… Variations…. They are IDEAL. They give tapestry work a depth and shading and richness like nothing else. I love them. I love opening the skeins and seeing the subtle shifts in color. As I twist the butterflies, the yarn turns in the light and wonderful unexpected shades and highlights jump out. It's rich as sinking your hands into a chest of pirate treasure. And they have names, these colors: Guadalupe, anochecer, lamb's nose, afternoon storm.
Today was about beginning to wind butterflies, and here is a small stash of them. I use butterflies to control my tapestry weft. Some people use bobbins instead. I have a beautiful set of wood bobbins from years back, and I want to love them, but butterflies suit me better. If I ever weave tapestry with very fine yarns, with silks and fine cottons and such, I might try the bobbins again. For now, though, butterflies for me.
Winding the butterflies, making figures of eight (or little infinities) between fingers, across my hand, is meditative, peaceful, delightful. I hope that sinks into the yarn, and carries through to the weaving, all in Beauty.
Butterflies need to be kept somewhere, or they will fly all over the house (usually in the arms of a feline). I brought down my favorite duck basket from the high kitchen shelf and gave it a good cleaning. Where does it come from? I don't know; it is older than I, so it has simply always been there.