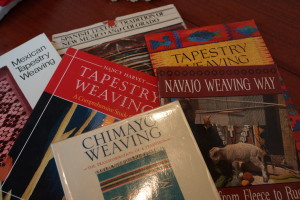 Well, 2016 has arrived, and apparently it is time to Begin Something. This year I will be trying a tapestry diary, or tapestry journal. The idea of making tapestry weaving a daily practice, of creating a daily tapestry diary, begins with weaver Tommye Scanlin, apparently in 2008. In the years since, the practice has caught on and spread far and wide.
What is this practice? It is at heart a commitment to do a bit of tapestry weaving work every day. At the start, the weaver may set certain rules about color schemes, patterns, how to account for missed days, whether to mark out the edges of a day's work, and so on. Typically, the end result is a tapestry with separated areas for each day or week, forming a mosaic that fills the course of a season or a full year.
Weaving has become an important part of my spiritual work and path as well as a pleasing creative adventure. I've had daily spiritual practices for many years, so I hope this will become a comfortable addition to them. While the tapestry itself is the primary work, my mind is a verbal thing, and the images the tapestry work shakes loose will, inevitably, stir up words and phrases and even whole sentences with verbs and subjects. Hence, the blog, in which words will weave in and out of the images and peep out between them from time to time.
And today is the beginning, the arbitrary line when I Start. Except that of course I started about ten days ago when I read about tapestry diaries for the first time and thought "aha!" Or perhaps it was this Fall, when I went to a tapestry class and realized my waywardness with tapestry was caused by a sad collision of trying to work through more European-style tapestry techniques when my heart and soul lean toward the tapestries of the US Southwest, both Hispanic and Indian. One Southwestern style tapestry class at Weaving Southwest, and all the tangles shook cleanly out of my warp, and the way was clear. Except the tapestry really began when I bought my first tapestry loom, about 6 years ago. Or when I first saw someone weave and my hands tingled with the imagined pleasure of it (oh, blessed mirror neurons)? Or when I was born, or conceived, or my parents fell in love, or their parents. Arbitrary things, beginnings. Everything is connected, and the World having been properly woven, there is no tearing it apart. Even if you cut a hole, the yarn always remembers where it was meant to be.
I think most weavers embarking on such a journey start their weaving January 1. I am not. January 1 is when political entities decree the year has Begun, but I celebrate other days that have an equal claim. The real reason, though, is to honor the things that come first. Weaving doesn't start with the first pick of the weft through the warp threads.
Nothing starts where we think it does. Many years back, while demonstrating ash splint basket making at Washington Crossing Park, I was asked how to begin making a basket. First, grow a tree.
I won't go that far back, but I am picking another arbitrary point to "start" my tapestry journal practice. Today I start looking through books and devising rules.
My tapestry will be in the mold of Southwest tapestry, a piece woven for use of some kind. It will not be backed and framed later – so it will eventually have all its loose ends neatly needle-woven in, so the back will be as presentable as the front. 2. For the winter at least, it will be wool on wool, weft and warp. I allow myself to re-examine that as the seasons change, but suspect I'll stick with it. 3. I will use yarn from my stash, not buying fresh. 4. I will use an outline around each week, but not each day. 5. Each day's weaving will reflect some part of the day itself, be it the color of a feeling, or a shape. I am allowed to miss days, but the missing days will be represented by small black blocks or lines woven in later. 6. Even on days I must miss, I intend to think about the tapestry and take note of it.
Six rules is plenty to be going on with.