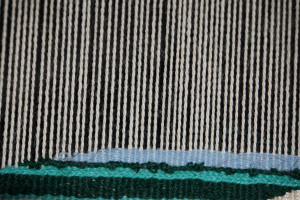 Today at work everything that should have been easy became mysteriously tortuous and labyrinthine, and I said to a colleague that it felt like swimming through peanut butter.
I should point out I have never actually tried swimming through peanut butter, and also that I buy the softer, more liquid natural brands. Anyway, when I got home and faced the loom (and answered the "no, I'm too tired; it's all right; I don't have to" inner voice with a pleasant "no, I *don't* have to, but I am going to"), I wondered how one weaves the sensation of swimming through, well, anyway.
The literal picture wasn't going to cut it.
The key is the idea of texture: crunchy or smooth, if you will. So tonight's weaving is very hard to photograph properly at night with a flash. There are different textures arising from the juxtaposition of bouclé yarn in all its curls against very smooth yarns, and from the juxtaposition of flat-woven lines of each against lines woven in soumak. The soumak detail is what I can't get in this photo. I can see it in the pale green because I know it's there, but in the current light I can't get enough of a close-up to show the variation. [The photo is also driving me nuts because the flash gave a ghost of warp under the flat, smooth pale blue on the top, and when you look at it with the human eye you don't see that at all.] If you care to learn more, there is a clear and easy description of soumak here.
Texture.
I ate the peanut butter when I got home, for dinner. Creamy. On toast, with locally made triple berry jelly. Take that, powers of confusion and stress.