[wondering where the weaving is? it is coming soon, probably this weekend]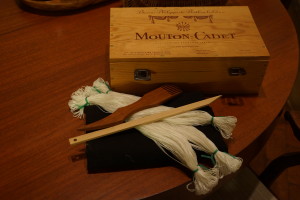 I am enjoying the slow build up to weaving.
Today was for finding and cleaning a few crucial tools. The only tapestry work I've done in the past 18 months was at a class where I used borrowed tools, so some of my tapestry necessities were buried under floor-loom-fabric-weaving goodies. But here they are: my much loved Dovetail tapestry beater; a handy small pick-up stick (for moments when you work against or between the sheds); the all important black cloth to hide the warp threads that run along the back of the loom, making the working warp easier to see; and a luxurious new set of Texsolv heddles, so much easier than the homemade heddles I used before.
Behind them, a special treasure chest. This is the wine box in which the former owner of my floor loom kept her tools. It came to me with the loom. Her last draft is still inside. I don't even know her name; I bought the loom when her husband listed it on Craigslist, twenty years or so after she died.
I love that she chose a box like this. I wonder when she enjoyed the wine – was it a special occasion? The box is the perfect size; she chose it well. It is long enough for wire heddles and deep enough for warp weights.
When I open this box, I think warmly of the woman I never knew. I want to tell her I've been saving, and I am about to buy the final 4 harnesses for our 4-now-4-later Schacht Baby Wolf loom. I hope she doesn't mind that I keep tapestry tools in her floor loom box. And tonight I clean those tools, and the box, and set everything straight, and make sure her last draft is still safe inside – and I will lift a cup of wine tonight to her.